Dramatic Need is a creative arts charity helping vulnerable children in South Africa & Rwanda to build hope & self-belief in the face of conflict, trauma & hardship.
The Children's Monologues
The Old Vic
14th November 2010
Directed by Danny Boyle
Produced by Amber Sainsbury and Kobna Holdbrook Smith
​
In November 2010 the original Children's Monologues was performed just once, simultaneously in London and in Rammulotsi township, South Africa. The project brought together cast and directors for one day only, giving them 24 hours to prepare for a sold out performance at The Old Vic Theatre. Retelling the experiences of the extraordinary children who participate in Dramatic Need's workshops, via writers including Lynn Nottage, Dennis Kelly, Polly Stenham and Bola Agbaje, the production was covered by press outlets across the country and successfully funded Dramatic Need's first permanent base of operations. The original Children's Monologues were brought to life by renowned actors including Sir Ben Kingsley, Benedict Cumberbatch, Eddie Redmayne, Rose Byrne and Gemma Arterton.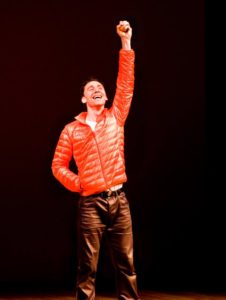 Tom Hiddleston played Prudence, a young girl upset with her mother for her father leaving and excited at the prospect of her birthday orange, as oranges taste like joy – only to have a hungry elephant snatch and eat it on her birthday trip to the zoo to her mother's amusement.
Each Monologue was adapted by professional playwrights from over 300 South African and Rwandan children's testimonies collected by Dramatic Need. The actors had seen their individual monologue but had not read any of the original children's stories. Some of these testimonies, written in childish writing on scraps of paper, are absolutely harrowing and make for very difficult reading. They contain terrible things, burdens that should never be carried by children. These actors where photographed before (as themselves, not in character) and then directly after reading the child's testimony that inspired their monologue, so that an instant reaction was captured. These actors are not acting, they are just feeling what any human being would upon reading what these children have been through. As the Times put it: shaken up.