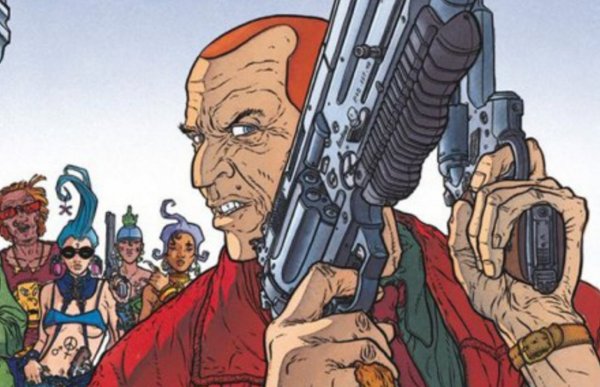 Estimated Release: 2019
Country: United Kingdom
Director: Ben Wheatley
Screenwriter - Comic: Frank Miller, Geofrey Darrow
Cast: Tom Hiddleston as Carl / Nixon (Rumored)
Producer: Hollywood Gang Productions / Solipsist Film
Distributer: Warner Bros.
Genre: Action | Based on a Comic. Dystopia. Robots. Post-apocalyptic Future
Synopsis / Plot: Adaptation of the graphic novel about a cyborg debt collector questioning his own existence in a post-apocalyptic Los Angeles. Nixon (Tom Hiddleston) is a seemingly deranged tax collector in a near-future dystopian L.A. in this big-screen version of Miller and Geof Darrow's comic Hard Boiled.
Rotterdam: Ben Wheatley Talks 'Free Fire,' 'Doctor Who' And His Killer Approach To The 'Wages Of Fear' Remake
Jessica Kiang for The Playlist
February 6, 2017
Do you think its lack of obvious heroism will hamper or help its reception in the US?
I think it fits within a tradition — it could be a cowboy film. Like, "Shane" doesn't — oh wait, he does, he kills everyone and then runs off. But then, that's a dark ending, right? I don't think it's a million miles away from that. And here as well the characters themselves, I kind of like all of them. No one is particularly evil, or sadistic. It's also like a war movie where you see both sides equally weighted, which is unusual — you never really see that symmetrical a war story.
And eventually there aren't even any sides, just individuals forming temporary alliances but kind of out for themselves.
Which is a thing that happens in "High Rise" too. You know a lot of the criticism — or analysis — of "High Rise" was that it was the upper class versus the middle class fighting for things, but that's only the first part. As in the book, the class warfare part of it only lasts for like an act, and the same with this. There are very definite sides but they all end up out for themselves.
You mention the criticism of "High Rise." Do you think it would have played differently if these projects had gone in a different order, and "High Rise" were out now?
Oh, God knows. I think "High Rise" felt to me ahead of the curve in terms of its politics. We got a lot of stick from people saying "Oh the politics is too on the nose" and "You can't criticize Thatcher" and all this kind of stuff, but now it doesn't look like it went far enough.
Now it's "Ben Wheatley's Overly Optimistic View Of The Political Future"
Haha! But I take no pleasure in that! In being right, it's no good. It doesn't matter anyway, it had to come out at that moment, and "Free Fire" couldn't have happened without "High Rise" going first.
Speaking of, what's up next from you? There are several projects rumored…
Yeah, there's [monster movie] "Freakshift" which we're still trying to make — probably, hopefully shooting that in June. And I'm writing stuff for Warners at the moment for "Hard Boiled," the Frank Miller adaptation.
And is that still due to star Tom Hiddleston?
Yes it is. And then "Wages of Fear" is bouncing around too.
Would you do a big Hollywood superhero movie?
I guess. It's always funny, it sounds very pompous, like I've got a choice! I mean, if I get offered one… there's no one clamoring at my door to do it. It would depend what it was. And really, they've done 'em all! It's all been done, the characters have been done. I'm a comics collector, I have been since I was a kid, and it's been throughly filleted.
Unless you have some obscure minor character you've always had a passion for.
Not really, but I mean "Hard Boiled" is a comic adaptation, which is great.
Free Fire: Ben Wheatley on his new film, Scorsese and Tom Hiddleston

March 30, 2017
There's certainly no shortage of material. He and Jump make it a policy to write other films while one is in production. "So for every film we've made, we've probably written three or four scripts. And over time they all start to stack up."
Among those in the pile are Freakshift, a film Wheatley has had in his locker since Kill List which he describes "policeman versus monsters". Set to shoot in August, Alicia Vikander is currently in talks. Then there's Hard Boiled, a take on Frank Miller's early-'90s comic-book series, in which his High-Rise star Tom Hiddleston will play a tax collector in a dystopian Los Angeles.
"I don't want to get into that cycle of four years, five years, then suddenly it's one [movie made] every six years, which seems to happen to a lot of people," he says. It's not just the writing where Wheatley is smartly thinking ahead. A former storyboard artist, he's started to art-design projects in advance, rather than wait for financing and rush the design phase in pre-production. "I want to have them prepped before that moment."
Comparable to Guillermo del Toro, who began on small-scale genre productions like Cronos, could he similarly go and work in America? "If Free Fire had been set outdoors in a town, we'd have gone to America to shoot it," he shrugs. But there's something perfect right now about his set-up. "While I'm making films produced by my own company, it's much more comfortable for me. Also, it's nice making stuff near your house! You don't have to move around!"