Vivienne Westwood launches star-studded Save the Arctic Campaign
Harriet Hall
July 14, 2015
Sixty celebrities have taken part in a new Greenpeace campaign to save the Arctic hosted by fashion designer and activist, Dame Vivienne Westwood.
Models including Kate Moss, Naomi Campbell, Lily Cole and David Gandy appear in the campaign, wearing 'Save the Arctic' Westwood t-shirts. Also appearing in the campaign to save the Arctic's landscape, wildlife and indigenous peoples' wellbeing, are actors Dame Judi Dench, David Tennant, Sienna Miller and Tom Hiddleston.
Fashion designer and environmentalist, Stella McCartney, donned a t-shirt for the photographs, as have pop stars Kylie Minogue, Rita Ora, Jessie J and Chris Martin. Pamela Anderson, who also features in the photographs, has said: "Some of the most vulnerable potential victims of Big Oil in the Arctic – the whales, walruses, migrating eider ducks, and polar bears – have no voice. But we do. Time to save the Arctic."
The photographs were taken over 18 months by photographer, Andy Gotts MBE, and are being exhibited on the walls of London Underground's Waterloo station – covering every advertising spot along the escalators,
The Save the Arctic project has been running since 2012, but this latest campaign is hoping to thwart plans for Shell to commence drilling for oil in the Arctic, off the coast of Alaska. There are huge risks associated with offshore drilling in arctic conditions, with a 75% likelihood of a major oil spill over the lifetime of Shell's leases. If such an oil spill were to occur, the Arctic's wildlife would be severely endangered.
Seven million people, worldwide, have pledged to oppose Shell's drilling plans.
The photographs will be seen by all employees of Shell's London HQ, which is adjacent to Waterloo station. Greenpeace UK's Executive Director John Sauven said: "Behind the 60 famous faces in this collection, there are millions more rising up to demand Arctic protection. The global movement to defend the Arctic is snowballing – with seven million people already calling for its protection."
Model Lily Cole, who features in the campaign, has said: "Drilling for oil in the Arctic is only possible because man-made climate change is already causing this region to grow warmer twice as fast as the rest of the planet. The melting ice makes these huge reserves of oil and gas more accessible. We need to leave it in the ground."
The t-shirts worn in the campaign are all made of organic, unbleached cotton from a 20 year-old cooperative in Peru.
Dame Vivienne Westwood, who launched the campaign alongside designer Sadie Frost and Greenpeace UK has said that: "People all over the world understand that the Arctic melting will affect us all. If we're to save it, the time to act is now."
"This drilling madness in the Arctic has to stop. There are 7 million people signed up to Save the Arctic, with global public opinion still growing – we need to continue this momentum until it becomes a torrent they can't afford to ignore," said the designer.
The photographs will be on display at Waterloo underground station and will remain there until Sunday 26th July 2015.  (Stylist)
David Tennant, Peter Capaldi, Tom Hiddleston and Maisie Williams join forces to Save the Arctic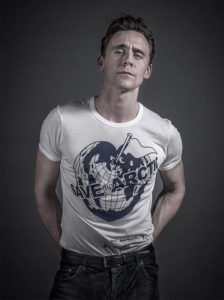 The Greenpeace campaign launched by Vivienne Westwood has also been backed by Jenna Coleman, Lara Pulver, Ian McKellen and John Hurt
By Susanna Lazarus
Tuesday, 14th July 2015
Some serious star power has come out in support of Save the Arctic – Vivienne Westwood's new Greenpeace campaign. A set of snaps have been unveiled, lining the escalators of Waterloo station, featuring the likes of Doctor Who stars Peter Capaldi, David Tennant and Jenna Coleman, Game of Thrones' Maisie Williams and Gwendoline Christie, and actors Tom Hiddleston and Lara Pulver who have all lent their names to an initiative launched to stop oil drilling in the Arctic.
Olivia Colman, Ian McKellen, John Hurt and Judi Dench also appear in the stills, on display at the central London tube station close to the headquarters of oil company Shell which is due to begin work near the North Pole later this month.
Capaldi – who is one of many stars photographed by Andy Gotts MBE – said of the campaign: "We know this planet is a fragile one. Yet we stand and watch as the Arctic shrinks. The time has come to stop watching. We must act."
"The Arctic is a unique and beautiful ecosystem, providing a home to both Indigenous Peoples and endanered species," added Williams. "Now it's under threat and we must act."
The exhibition – which runs until July 26th – was launched by Westwood with Greenpeace UK's executive director John Sauven at Waterloo station yesterday. "It was [his] brilliant idea to exhibit the images in Waterloo – using the escalators as a new art space in London – hundreds of people will be able to see the images," said the fashion designer. "People all over the world understand that the Arctic melting will affect us all. If we're to save it, the time to act is now." (RT)