Thu, Jan 24 2013 2:32 PM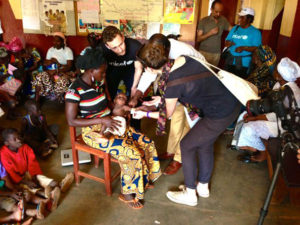 It's day two for actor Tom Hiddleston on his first trip with UNICEF UK, visiting Guinea in West Africa. Tom will be meeting with Guinean children, families and communities. He'll also be seeing several UNICEF projects, and finding out about our work in child protection, education, and water and sanitation. Read his first post here, or follow Tom's trip on Twitter at #tom_UNICEFUK and @twhiddleston.
I must be as honest as I can. As I sit down to write tonight, I make that commitment. Over the last two days, I have experienced joy and sadness in equal measure. I have been delighted, enlightened and confused. The UNICEF team here in Guinea have given me such a comprehensive introduction to their programs for children, and their implementation of those programs, that a picture of life in Guinea is beginning to emerge. It's like a jigsaw puzzle: one where the pieces keep moving or changing shape, which in turn alters the picture. You might be looking at it from a different angle, or at a different time of day. It depends where you got the information, and who gave it to you. You might be filling in the blanks, taking wild stabs in the dark. It's all open to interpretation.
Nevertheless: I must be as honest as I can.
My second day in Guinea began with a visit to the National Institute of Child Health and Nutrition (INSE) in the Donka Hospital in Conakry. Immediately I was introduced to Guinea's most experienced doctors and child-care specialists, in whose charge are some of the country's most severely malnourished children.
Any surges of adventurous adrenalin that I had previously felt about travelling in West Africa were tempered immediately by the sight of these children. The doctors and nurses were helpful and informative about the specific details of each of the children's individual problems, but I was simply overwhelmed by the sight of so many small infants in such great need. One small ward – about the size of a single room in a two-star or three-star hotel in the UK – housed at least twenty children, some of whom I was told had slim chances of survival. Their arms and legs were indescribably thin, their cheeks tear-stained, their skin a harrowing, slate-grey. Most shocking to me was the speed and urgency of their breathing, asleep or awake, but it was uniformly unsettled and uneven. When you see a child struggling so hard simply to breathe, it makes your heart hurt. Many of these children had lung infections, and most if not all had been admitted because of malnutrition, or an inheritance of a condition due to the malnutrition of their mothers.
The doctors here are doing everything they can, with deep reservoirs of expertise, experience, calmness and compassion, but they need more and better equipment, as well as greater capacity. In the ward of twenty children, there was one life-support machine supplying oxygen. Just one. In a room full of twenty.
One child, awake, lying still, painfully gaunt, watched me carefully as the doctors took me around the room. "Elle a la maladie," said an advisor, "mais elle est tres attentive." She was so attentive, so aware, her mind locked inside her body. She, like her neighbouring children, was helpless.
I am shown into a room where I find two of the smallest children I have ever seen. One was born with a terrible skin condition, due a lack of essential vitamin A, the other was born three months premature. The sight of these two children left me speechless. The skin of the first child was as dry as tracing paper.
Many of these children are admitted with chronic malnutrition. Malnutrition is a difficult idea to grasp fully until you have seen children like these. Immediately questions arise. Why? What are the causes? The UNICEF team are quick with answers: Firstly, many children are not breastfed from birth. They are only breastfed for a short time, and thereafter with water, which is often unclean and rife with disease. The mothers themselves are malnourished and the disease is passed on hereditarily to the child, and often, at birth there was no provision for vaccination for the child. I'll return to these subjects again and again. These are the corner-pieces to the jigsaw puzzle, never mind the fragmentation of the bigger picture: breastfeeding, water, sanitation, maternal care & education, vaccination.
It wasn't all bad news at Donka. I met a newborn boy, whose mother had been previously diagnosed with HIV, but the disease had not been passed on to him. He woke up as I was passing by and was full of smiles and curiosity. UNICEF supplied the treatment that protected him from being infected.
It's also important to say that at Donka they have a cure rate of 65%. The Institute is staffed by highly skilled professionals, who work tirelessly to save lives, but there is a lack of essential medicines, and a poor supply of equipment. As Julien Harneis pointed out to me later, I am witnessing child care at a National level, in the concentrated urbanised area of Conakry. In more remote parts of the country, however, there are different solutions within the culture and practice of local communities. It's not necessarily the children who need the attention, it's their mothers. Help the mothers – help the children.
Before we set off on the road to visit these rural communities, we stop off to visit Project Tinafan. We drive past football pitches, past a blurred quilt of football club colours from all around the world, but we drive past the football. We are here to watch the circus. Tinafan is a project designed to develop the capacities and social/economic inclusion of children who may have dropped out of school, and depend on their livelihood on meagre income from unskilled labour. Tinafan uses training in the circus arts to strengthen their confidence, bolster their interpersonal skills, and help them trust each other. All of this sounds a little dry. As far as I can see, as soon as I open the car door, these children are dancing. I hear pounding drums. I see running, jumping, smiling, free-wheeling, cart-wheeling energy rushing towards me. I see fit, strong, smiling, athletes, fit to burst. The thoughtfulness brought on by what I had seen at Donka was instantly dispelled by the sheer, thrilling, joy radiating from these children. We were invited inside the gym where they train to watch a show. A band was already whipping the crowd into a frenzy, while activity billowed behind a curtain. The band consisted of at least five drummers and two xylophones and little else. Their rhythm was propulsive and electric. I'm not sure what my expectations were, but they were entirely blown out of the water. I must be as honest as I can: these children are world-class performers of astonishing athleticism and grace. The best among them, I later learned, have toured the world with circus troupes. Their performance was explosive and dizzying – acrobatics, human pyramids, trampolining, contortionists – a display of strength, flexibility and precision on a par with, if not beyond, the very best physical performances I have seen in ballet, contemporary dance, or Cirque du Soleil. They performed with raw joy. Their trainer "Prince" also teaches them how to paint, emphasising to me that how important it is for his students to understand the power of passion and positivity in creativity after the human body passes its peak.
In one morning: a picture of sickness and disease juxtaposed immediately with a picture of health and well-being. Both true. Both in need of clear-sighted, practical attention and continued support. Two different pieces of the puzzle.
We hit the road. A bumpy road of pot holes, red dust and mango trees. The red dust is bauxite, Guinea's primary export. It's a beautiful country. It's hot and humid. Smoke settles in the valley like an ethereal mist, just below the tree line. It's from the blackening of the crops, or from cooking fires from local dwellings.
There is only one main road through Guinea, and we were on it, headed east into the rural part of the country. Along the way there are various checkpoints manned by groups armed military stopping the local vehicles ahead of us, but our 4×4 vehicles are waved straight through. Nobody stops a UNICEF transport – a blindingly clear example of the kind of respect accorded to the organisation, its representatives and workers, in the entire country at every level. In other villages, women and children sitting on the side of the street applaud as we drive by. Everybody knows UNICEF's influence and reach is important and indispensable.
After a six-hour drive, which for me passed quickly thanks to Julien's eloquence on the problems afflicting the country, we arrived around night-fall at the town of Saramoussayah. It's dark. Very dark. We are here to stay the night: to meet the local elders, the mayor, the doctors and teachers, and to chair a focus group with women on key family practices for child protection against disease. We are given a warm welcome. At the presentation our group to the elders of the community I'm struck by the seriousness, strength and wisdom etched on the faces of these men and women. Their sense of collective responsibility is deeply inspiring, and humbling. They are all almost exclusively teachers, doctors, nurses, or involved in the centre de santé, the health centre. After our delegation is presented, we are invited to eat. Julien sets a careful example, and asks to wash his hands before we eat. One of the most important messages UNICEF can help to communicate is this kind of habitual hygiene. Mothers should wash their hands before and after preparing food, they should wash their hands after cleaning and washing their babies and children, they should teach their children to wash their hands.
After a supper of rice, sauce, and banana, I am invited to join a Focus Group for women, chaired by the DPS, the Directrice Prefectorale de Santé, Dr Mariam Kankanlabe Diallo. I find her incredibly impressive. She seems wise and experienced, with deeply kind eyes. She commands respect in the local community because of her education. And she, like all women in the Mamou region, dresses in clothes and a headdress of brilliant colour. We are escorted away from the centre of the village, seated in a circle of benches behind some out-houses, sharing the darkness with the cows, the crickets, and the stars. We agree to touch on three subjects: washing, breast-feeding, and vaccinations. It takes a while for the women to trust us; it takes a while for them to want to talk. We have to make them feel they are in a sufficiently safe environment to air their concerns. The near pitch-black darkness adds to the anonymity.
Two things emerge that I find most surprising. The first is about breastfeeding. Some of the women tell us they didn't know they were recommended to exclusively breastfeed for as long as possible, at least up to six months. Some tell us that they gave water to their infants water after a month or two, simply on the assumption that water cannot be bad for a child, but it can especially bad when there are also local problems with sanitation and the cleanliness of water. Others tried to give their child food days and weeks after birth. Some say they didn't breastfeed at all. What surprises me is the general lack of education about maternal care. It is not at all the fault of these mothers, many of whom are young girls. It's simply that they didn't know what was best. Maternal care was open to interpretation.
The second surprise is a positive one. I ask about vaccination. I'm greeted by a unanimous hum of approval when the word is mentioned – so loud and affirmative that it makes me smile. Vaccinations were unilaterally made available to everyone. Every woman confessed that the health centre stocked all the necessary and appropriate vaccines, and nobody registered a single complaint. Their children were inoculated: BCG, Polio etc. all the bases were covered. While they were still talking amongst themselves Pauline reminded me that all the vaccinations in this region of the country are provided by UNICEF. Every single one. They are not provided by the state.
This begins to illustrate the sensitive position of an organisation like UNICEF must occupy in a country like Guinea. On a developmental level, in the long term, it's counter productive for an organisation to come in and simply fix a problem, at a macro or micro level, because as soon as they leave the inhabitants of the country are left high and dry. UNICEF has to work, crucially, alongside the authorities, (governmental and local) so that these communities can self-educate and self-sustain. UNICEF workers are trusted, and they inspire trust and confidence. And yet the humanitarian imperative is to save lives and allow people to live with dignity. If UNICEF did not make provision for vaccination, if they did not work with local communicators, if they did not fund and support health centres like the one at Saramoussaya, there would be many more children like those I saw at Donka.
Julien closes the meeting carefully. He thanks all the women for their honesty. "We can't make any promises," he says, "but we will endeavour to work with the authorities to help."
In one day, I've seen so many different children, so many different mothers, in different communities, from so many different perspectives and angles. But I can see where UNICEF is helping. In some cases it's with policy and programming and financial support, in other cases with direct medical help, in other cases: just being there. Turning up to help. And coming back next time. To help again. A reassuring presence: constant, listening and loyal.
And so to bed. I put on my headtorch, spray myself from head to toe with Jungle Formula insect repellent, brush my teeth, say hello to the five huge spiders sharing a room with myself and Luke, slip into my mosquito net and close my eyes. There is a lot of loud activity from a cow and her friends outside the window. I like to think they are saying hello.
Follow Tom on Twitter at #tom_UNICEFUK and @twhiddleston. If you'd like to donate to support UNICEF's work for children around the world, please visit this page. Thank you!