HERMIONE EYRE
ES MAGAZINE
Lifestyle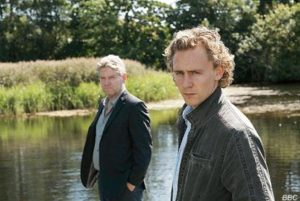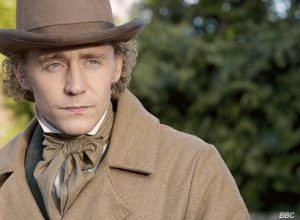 Tom Hiddleston is fast becoming one of our best-loved actors. Your auntie adores him in Cranford (he plays the young man who's so passionate about the railway and Jodie Whittaker).
Your cultured friends raved about his Cassio in Othello at the Donmar, while crime addicts are always talking about how put-upon he is in his role as Kenneth Branagh's number two in BBC1's Wallander.
Even your pre-teen son is excited about seeing him as Loki in the forthcoming big-screen Marvel comic adaptation of Thor, directed by Branagh.
Luckily, it does not seem to matter to Hiddleston that he is hot property. He's been through Cambridge, RADA, and the RSC but practically the first thing he tells me when I meet him in Chelsea for supper is how unworthy he feels.
Running a hand bashfully through his slightly frizzy blond hair, he says he has just returned from making an independent film on the Scilly isle of Tresco, where he made friends with the local partridges and found the landscape so beautiful, so humbling'.
His thoughtful eyes widen at the memory. It's good for you, if you're in this strange game of show business, to stand on a rock once in a while and feel very small.'
Actorly stuff, but he gets away with it because it comes straight from the heart. He is quite capable of laughing at himself, too – two minutes later he is telling me how, initially, he and his father, a senior business developer at The Oxford Science Park, had a set-to about me doing something as wafty and insubstantial as acting'.
Hiddleston's mother, a producer and casting director at Garsington opera house, was more understanding but his father is a serious-minded Scot with a strong sense of civic responsibility'.
The impasse was resolved, however, when Hiddleston père watched The Gathering Storm, the 2002 HBO WWII drama in which his son played Randolph Churchill.
It was a very rousing piece that showed Winston Churchill in all his complication and charisma, and my dad called me up in tears afterwards and said he was proud of me.'
Hiddleston, 28, discovered acting aged 13 when he arrived at Eton.
I really felt like I'd found what I wanted to do. Acting offered tremendous freedom because it allowed me to break all the rules under the cover of character – you can go a bit mad and swear and smash things up, all in the name of theatre.'
By day, young Hiddleston was scholarly and responsible but on stage he let it all out, playing everything from a hoodlum in Guys and Dolls to the vengeful Orestes in Electra (performed in the original Greek).
His parents divorced when he was 12, a shattering family event that sent us all off in different directions. It was very difficult and I always say that it was the thing that made me who I am' – he speaks gingerly, careful not to implicate anyone else with his words – because it made me take responsibility for my life and I saw my parents for the first time as human beings, not as perfect love machines. They were both very badly hurt. I mean, it's hard enough when you're ending a short-term relationship, isn't it? I can't imagine what it's like to end a 17-year marriage. But I'm so proud of them and I couldn't do without them and as a result [of the divorce] I have grown-up, intimate relationships with both of them.'
He took a first in Classics at Pembroke College, Cambridge and arrived at RADA with a spectacular grasp of etymology (I don't think I've ever not been able to understand what a word means') but with a lot to learn about tumbling, backflips and sword fighting.
And anyway, acting is about instinct, it's not a matter of the head. It's about finding the truth in your heart, not about what school you went to.'
By the time he left RADA, he still couldn't sing like Freddie Mercury, to his regret, but he was otherwise limber, deft with a cutlass and ready for anything.
He clearly enjoys the shapeshifting aspect of his profession – to excess, perhaps. While he was in the early rounds of auditioning for the Marvel comic adaptation, along with every other blond English-speaking actor in the world' it was suggested to him that, as he was being considered for the part of Thor, he might bulk up a bit.
Accordingly, he followed a strict exercise regime and ate nothing but chicken, as bodybuilders do. Chicken salad for every meal. And sometimes the odd egg.'
After six weeks of this, he received a phone call from the producers telling him they wanted him in the film, only playing the part of Loki, Thor's lean and hungry-looking brother. I guess it was a relief to go back to my natural body shape,' he says, admirably unfazed by the whole experience.
He's delighted to be playing Loki, anyway, the god of mischief (which is the one you want to be, isn't it?'). Anthony Hopkins is playing his father, Odin.
In a perfect Hopkins accent, Tom recounts a recent message, relayed via Branagh: Tell Tom I don't like fava beans, and I'm not a complete psycho'. To cap it all off, Tom loved the Marvel Superpower Top Trumps card game as a child. If you went back and told the eight-year-old Tom this is what you will be doing, I'd have been' Words fail him.
Hiddleston is a softy in love, and prone to grand romantic gestures such as spontaneous road trips. I like saying, "Pack your bags, we're off." 'Yes, there is someone' in his life, he says coyly, but for the moment he lives alone in Kentish Town, although his bags are currently packed for a five-month stint in Hollywood.
Filming the Marvel blockbuster will be a new experience.
On stage he has proved himself, winning an Olivier award for Best Newcomer and an Ian Charleson award nomination for his work with theatre production company Cheek By Jowl. He loves the evanescence of live theatre, quoting Stoppard's quip on its magic: If you weren't there, you missed it.'
Hiddleston played the scrupulous young doctor, Lvov, in a Stoppard translation of Chekhov's Ivanov starring Branagh (again). Since Chekhov was a doctor, did he see his part as an authorial self-portrait? No, in rehearsals Tom [Stoppard] said he thought Lvov was probably based on someone Chekhov knew, another medical student. Because Lvov is so judgemental and Chekhov is the opposite, totally compassionate, totally aware that Ivanov is suffering what would now be understood as depression.'
Despite the manifold sufferings on stage, the cast had a jolly time. There were lots of laughs. It's often said that backstage on a comedy the mood can be quite depressed, but when you're doing a tragedy everyone has great fun.'
Wallander, a cop show that's so gloomy it makes Inspector Morse look like a Carry On film, follows the same rule of thumb.
On screen, we try to show what it costs the police, emotionally, to deal with murder victims. But behind the scenes, we're filming in Sweden on Midsummer's Eve, which is like their New Year's Eve, and everyone in the crew is in high spirits. They're so kind and have what I now understand as a Scandinavian sense of humour, very dry and with far fewer taboos than we have.'
But Ystad, where the programmes are set – and where the bodies pile up under the sickly yellow sun – is, he says, a funny old town; I wouldn't want to spend too much time there.'
With Hiddleston's career speedily gathering pace, this seems unlikely. He's an ethereal spirit; beautiful rather than sexy; a powerful presence on stage but unobtrusive in person.
Gentle, cerebral and entertaining, he's off to throw a girdle round the earth. The first stop is India, where his elder sister is getting married. I'm going to wear three sets of pyjamas, do a little dance and go mad!' he laughs – and then it's on to Hollywood, and beyond.