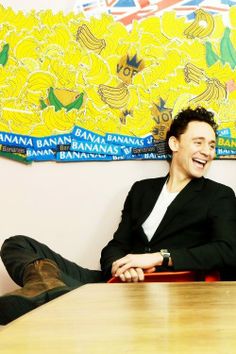 British actor Tom Hiddleston and director Joanna Hogg, who first met for 'Unrelated', have reunited again for 'Archipelago'. Dave Calhoun meets them. Photography Rob Greig.
Hiddleston and Hogg. They sound like a firm of crusty accountants in a Dickens novel. But this partnership is strictly cinematic. Joanna Hogg is a 49-year-old British director and Tom Hiddleston is a 30-year-old British actor whose first film role was as a cocky, ex-public school teenager in Hogg's debut feature, 'Unrelated' (2007), a story of a troubled woman on holiday in Italy with a bunch of well-off friends and their privileged kids.
Since 'Unrelated', Hiddleston has been busy in front of the camera and Hogg has been busy winning acclaim for her first film and planning a second. Impressively, Hiddleston already has films by Terence Davies ('The Deep Blue Sea'), Kenneth Branagh ('Thor'), Woody Allen ('Midnight in Paris') and Steven Spielberg ('War Horse') in the can. None of which stopped him returning to work with Hogg on 'Archipelago', which opens next week and again explores territory of upper-middle-class personal and family discord.
Set and shot entirely on Tresco, in the Isles of Scilly, 'Archipelago' is another portrait of people on holiday. This time, Hiddleston is Edward, the elder of two siblings on a break with their mother but without their father, whose absence distresses them all. Dysfunction rules the roost as Edward puts on a brave face, rain lashes against their holiday home and a hired cook tip-toes through the emotional minefield of this family.
Tom, you must have enjoyed 'Unrelated' to come back again?
Tom Hiddleston 'Yes, "Unrelated" was my first ever film. I think you knew that at the time, Joanna?'
Joanna Hogg 'Yes, I knew it and wasn't remotely worried.'
TH 'I wasn't either, oddly.'
JH 'In fact, I liked it. You had done "The Gathering Storm" for TV, but you weren't immersed in a filming world.'
Tom, how did you land that role? 
TH 'It was so strange. I was two weeks out of Rada. When you leave, there's a strange period when you're trying to work out how to handle audtions. It was a heatwave and I was watching the Italian film "The Consequences of Love" at the Curzon Soho and got this text from my agent which said, "Call me right now, where are you?" He told me, "You've got to be at Bafta in 20 minutes." I was wearing flip flops, shorts and a T-shirt, and said I couldn't go in this gear. He said, "Just apologise for looking scruffy." Little did I know I'd dressed in character. I was disarmed and quite open in that first meeting.'
JH 'I think I'm put off when actors come in who've rehearsed something and it's all very slick.'
TH 'I felt quickly like I understood the character of Oakley in "Unrelated". I'd never been him. At 19, I was not an alpha male. But I knew those people. I knew his demons and his confidence. I also understood families who had been dysfunctional but were becoming a new unit, with new members.'
Joanna, the family in 'Unrelated' might once have been dysfunctional, but in 'Archipelago' we have a family that's right in the middle of that state.
JH 'Completely, right in the heart of it, and that was my aim. I wanted to see all those mechanics under the microscope. Tom, Edward got under your skin, didn't he? "Unrelated" was light-hearted, it was like you were on a holiday, but Edward is passive and has a great weight on top of him.'
Joanna, was Tom on your mind when you wrote 'Archipelago'?
JH 'We had a brilliant phone conversation in January 2009. I'd been thinking of doing a film about a young man struggling in a family – someone who was good but with guilt on his shoulders. I started talking to Tom and I wanted to know what it felt like being a 28-year-old man.'
TH 'Joanna asked direct questions. What keeps you up at night? What nags at the corners of your soul in darker moments? And the answers were about a struggle to be free, to define myself. That fed into Edward's desire to do something different, something his family found ridiculous, laughable, objectionable, which is this volunteer service in Africa. I've always known what I wanted to do. But Edward doesn't.'
Joanna, the dialogue in your films feels very free. Do you rehearse a lot or experiment while filming?
JH 'We have a week in the place where we film and talk about the history of the characters and family, but I'm light on my feet with it. The main thing is to be in the house where we film. But it's not rehearsal.'
TH 'As an actor it's intense. If a scene with an argument plays out in the living room, the crew packs up and leaves, and we're still living in that same house.'
You actually lived in the house?
JH 'The actors did, and that's no mean feat. Hearing Tom say that now, I feel a certain amount of guilt!'
TH 'She was in a nice cottage down the road! The same thing happened with "Unrelated". I shared a room with the two other teenagers. Immediately there's a chemistry because you wake up and go to sleep together. On "Archipelago", it was intense, especially when the story takes a turn for the dark side.'
Tom, you went off to shoot 'Thor' with Kenneth Branagh soon after.
TH 'There were two weeks between the end of "Archipelago" and the beginning of "Thor" in Los Angeles.'
Then came 'War Horse' with Steven Spielberg and then a Woody Allen. How easy was it to adapt?
TH 'I love the variety. You take the director's lead. I ask a lot of questions – probably too many! "Give me a book to read, give me a film to watch, help me to understand…" With some people you don't have to ask. With Steven Spielberg, you know what you're signing up to.'
JH 'The first thing I asked Tom to read before "Archipelago" was Dostoevsky's "The Idiot", before I'd even written a word. Tom, there was one other work, which you suggested I look at… We don't have to mention it… [whispers] "The Snowman".'
TH 'Oh, "The Snowman", absolutely! I don't know how I came to think of it. I think I'd watched it recently and Edward was swimming around in my head. It's beautiful.'
JH 'I thought it was spot on.'
TH 'I saw this boy and thought: Edward is this boy grown up. So those pyjamas Edward wears are those pyjamas from "The Snowman". I don't wear those pyjamas! It helped when we went around getting costumes from charity shops in west London.'
Joanna, were you involved in that?
JH 'I was very involved in that. There were certain clothes we found that were absolutely Edward.'
Tom, I can't imagine you going round charity shops with Spielberg. 
TH 'No, no! [Laughs] Picking my khaki gear for "War Horse"… But it's a good way of getting your arms around a project. It's wonderful when you have a huge costume budget and someone tailors your clothes to your exact measurements. But it depends on your level of vanity, whether you worry about how you're going to look. I respect actors who are true to the character rather than themselves.'
JH 'That sort of vanity wouldn't work with our method, I don't think.'