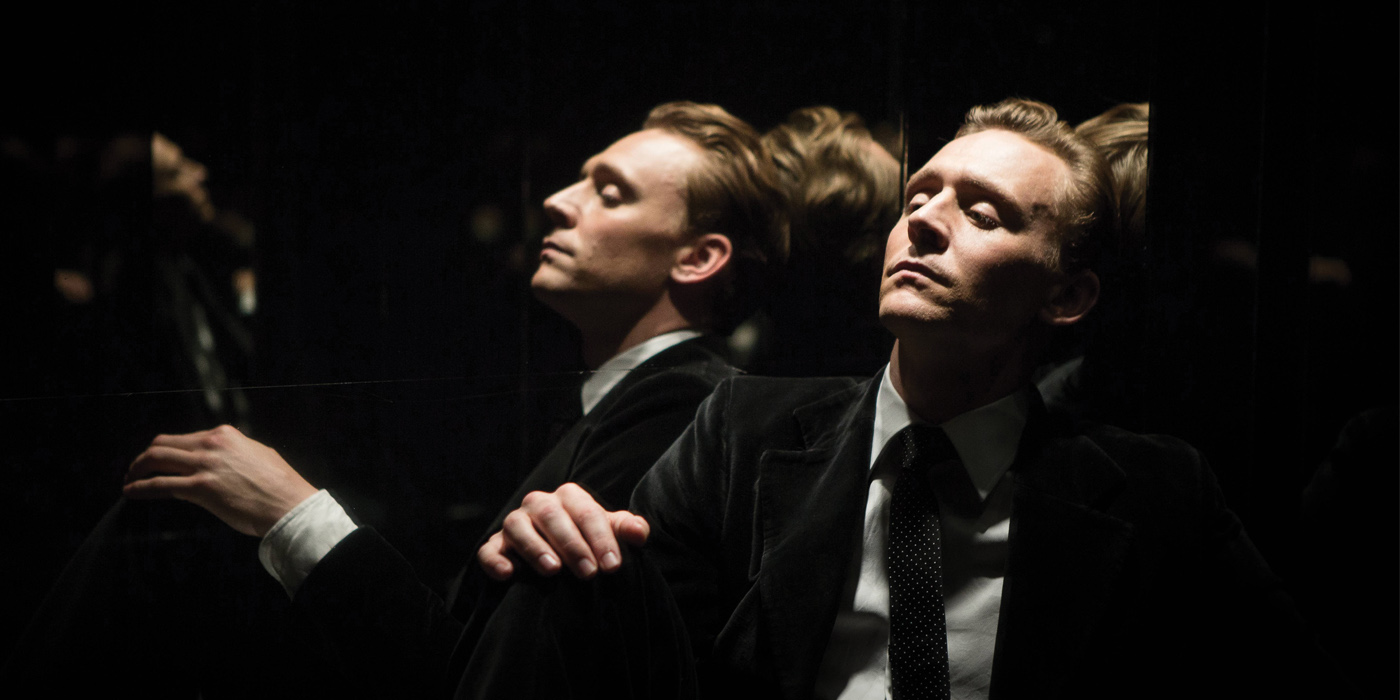 By:  GERARD SETH for M2
A couple of years back I took a paper called "Celebrity Cultures" as part of my Post-Grad. In between the discussions around topics such as the role of paparazzi, fandom, and the power of endorsement, "Persona" was a recurring key concept. Meaning "Mask" in Latin, the persona is essentially a socially constructed image that others perceive.
Ok, cool. So, where does this fit in with Tom Hiddleston?
Have you ever been a fan of an actor or a musician only to find out that they were, shall we say, less than charming? When you find out someone you once held in high-regard actually has the integrity and affability of a pile of wet socks, it can be rather deflating.
You're not going to get that with Tom Hiddleston.
By almost all accounts, Hiddleston is one of the nicest guys in Hollywood. You can tell he's extremely committed to his craft. He's known for being extremely committed to his fanbase – be it visiting kids in hospital completely in character as Loki, randomly signing a horse magazine at an event (yes that is real) or bringing tomato soup to a red carpet premiere for a journalist who had jokingly asked for some on Twitter (that is real also). It becomes all the more fascinating when you consider that a certified "nice guy" like Hiddleston is the perfect choice to bring the sharp-tongued, mean streak of Loki to life, and he does it so damn well.
Hiddleston was born in Westminster, London to a middle class family, the son of a stage manager mother, Diana, and a chemist father, James. Having a stage manager and opera fanatic mother helped plant the seed of performing arts in the young Tom, and it was through Tom's father that he learned the virtues of hard work and determination. James came from a working class background who used education as an escape route, not wanting to follow in the footsteps of his father, a shipyard worker. So when it came time for Tom to enter schooling, James placed tremendous emphasis on the importance of education.
Hiddleston attended the esteemed Eton College, a school of social standing comparable to something like Hogwarts (minus the magic, of course). "It's actually one of the most broadminted places I've ever been", said Hiddleston in a 2012 interview with The Daily Mail.
"The reason it's a good school is that it encourages people to find the thing they love and to go for it. They champion the talent of the individual and that's what's special about it".
Eton provided the perfect setting for high-school Hiddleston to thrive in and he exceeded in all areas. However, while Tom breezed through academics and played rugby, he felt a connection with theatre and performing arts in a particular way other subjects couldn't.
"I think I started acting because I found being away at school while my parents were divorcing really distressing. It's only now I've got a retrospective angle on it…I was really quite upset, and probably very sad and vulnerable and angry. Acting presented a way of expelling those feelings in a safe place."
By forming such a deep-seated bond with acting and coupling that connection with an already established work ethic, Tom was bound for great things.
The young Hiddleston began to shine on stage, and it was through his appearance on A Streetcar Named Desire that he was hired by his first agent. The opportunities began to open up. A variety of small-time appearances on television and indie movies soon followed, but theatre always remained as a place to hone his craft.
Theatre, while not on the same pedestal as television, film and music, is the perfect breeding ground for creating (at least) good actors. A talented theatre actor should, in theory, be able to act and/or sing, and then if they so choose, transfer those skills into the "upper tier" of Music, TV and Film. Eddie Redmayne, Hugh Jackman and Sir Ian McKellen being just a few notable examples. Tom Hiddleston is in that same mould.
Theatre was the domain where he not only honed his craft, but led to his "big break" as Loki in the Thor film franchise. Kenneth Branagh (oh look, theatre guy), was hired by Marvel Studios to direct Thor. Branagh and Hiddleston had previously worked together on the likes of Ivanov and Wallander. Impressed by Hiddleston's performances and work ethic, Branagh personally invited Hiddleston to audition for Thor even though executives weren't exactly sold on a relatively unknown actor in a blockbuster lead role.
"Ken has had a life-changing effect. He was able to say to the executives, 'Trust me on this, you can cast Tom and he will deliver'", Hiddleston said in an interview with The Telegraph. "It was massive and it's completely changed the course of what is available to me to do. Ken gave me my break".
Interestingly, Hiddleston had initially auditioned for the title role of Thor. Under the tutelage of a personal trainer and a strict regimen of eating five meals per day, Tom bulked up and built upon his slight frame, managing to put on 9 kgs of muscle through the process. With an impressive audition tape and a heftier frame to play the part, Hiddleston made the final five only to lose it out to Home and Away actor, Chris Hemsworth.
It turned out to be a blessing in disguise.
It's hard to imagine anyone else but Hemsworth and Hiddleston in their respective roles. When you factor in that the success of the Thor franchise is predicated on the brotherly relationship between Thor and Loki, Hemsworth and Hiddleston were perfectly cast.
"Ken told me that every actor has something for free. Jack Nicholson has an irreverence for free, Anthony Hopkins has a majesty and gravitas for free", Hiddleston shared in an interview with The Guardian. "He explained that what I have for free is that I can't turn off my intelligence. Therefore Loki would be much more up my street".
Hiddleston's portrayal and interpretation of Loki brought a grittier, relatable villain that audiences could understand and connect with, a welcome contrast to your run of the mill, "Crush, Kill, Destroy" antagonists commonly seen in comic book films. Hiddleston's success as Loki has direct root in the theatre background that both he and Branagh share (there's that theatre word, again).
The pair sought to portray the Shakespearean elements in Loki's story, which is why Loki comes across not just as a good villain, but one with great character depth and development.
While Hiddleston's casting as Loki set him up for an already big year in 2011, appearances in Woody Allen's, Midnight in Paris, and Spielberg's War Horse were the cherry on the cake. Back-to-back casting by iconic directors is a pretty good feat to say the least. Tom's interaction with Steven Spielberg, in particular, proved to be one that left a considerable impression:
"I was stunned. He offered me the part right there and then! An official offer usually comes in weeks later. I had to ask him to repeat it. At which point I almost burst into tears. Here was the architect of my childhood imagination telling me I'm the real deal".
War Horse proved to be a commercial and critical success and one of Steven Spielberg's better films of the 2010's, and Hiddleston career in film took flight. Parts in The Deep Blue Sea, Only Lovers Left Alive and Crimson Peak were critically acclaimed. Hiddleston also sought to expand his versatility. His roles in High-Rise and I Saw The Light are vastly different – one is a dystopian-drama, the other is a Hank Williams biopic that required singing. Kong: Skull Island saw him in the lead of role of yet another commercially successful and critically acclaimed blockbuster. Even amongst all the film appearances, Hiddleston still remained true to his theatre roots starring in a variety of stage plays in England.
All these roles and appearances however, while hard-earned and well-portrayed, pale in comparison to the impact the role Loki has had, both on his career and on the superhero genre. It's all thanks to Hiddleston's portrayal, approach and the way characters have been carefully planned to grow not just over a standalone Thor story-arc, but with the overarching Avengers story too.
Carrying over consistent and well-executed character development over a film franchise can be a difficult feat, but this is why Loki is considered one of the best superhero movie villains, (with top spot saved for the Joker, of course). His story covers intriguing themes and touchstones that add much needed depth to the superhero genre. A vengeful son after the throne in the first film, the complex relationship between brothers in the second film, but it's the third film, Thor: Ragnarok where the franchise reached a zenith after building solid ground with its predecessors.
"We have the luxury of having established so much. Hiddleston said in an interview with Collider. "Everybody knows Asgard, everybody knows the rules, so now we can play with archetypes and tropes and expectation in a really fun way".
The addition of Taika Waititi to the franchise added a breath of fresh air to the Thor films. Room for improvisation in the film was embraced, giving a more "organic" feel to the characters in the process. The subtle nuances in comedic timing and physical comedy added a dimension not seen in the previous Thor movies. In film, sequels have the tendency of not stacking up to the original. Thor: Ragnarok is one of the rare instances where the sequel is better than the films preceding it.
Hiddleston's first encounter with serious silverware came through in 2017 with his appearance in The Night Manager, where he won a Golden Globe win for Best Actor – Miniseries or Film. The success is a testament to his passion and hard work for acting, but he's also actively used his standing to shed light on humanitarian issues.
Since 2013, Tom has worked with UNICEF as an ambassador with a particular focus on Africa. Visits to Guinea saw Hiddleston in touch with the groundwork UNICEF have implemented across focuses such as education, child protection, hunger and malnutrition, water and sanitation.
"A country like this immediately collapses the walls of your imagination and pushes them back by immeasurable distances in opposing directions. It's mind-expanding. I have felt like this on previous occasions after landing in India", wrote Hiddleston in a UNICEF blog about his visit to the West African country. "Life teems from every corner and quarter. I feel as though the cardboard box of my own reality has been flattened and blown open. Now I can see the edge of the world".
Even though his 2017 Golden Globes acceptance speech dedicated to South Sudan came out as, in his words, "inelegantly expressed", the star actor is actively using his platform for good. His work with UNICEF is consistent, but Hiddleston is also vocal with other important causes. He's worked with Greenpeace to bring awareness to global warming and the melting Arctic, supported gender equality behind Emma Watson's #HeForShe speech, and backed the Small Steps Project – a charity that seeks to provide aid to children and families that live in rubbish dumps in impoverished countries.
Charity and positive change is important to Hiddleston, but acting is still his lifeblood. Tom's first project of 2018, Early Man, pairs him with claymation mastermind Nick Park (of Wallace and Gromit and Chicken Run fame), playing the villainous Lord Nooth. "I've played villains before but this is very different. There's something so self-important and stupid about him. He wasn't really menacing, he's just an idiot.", Hiddleston said in an interview with The Upcoming. Hiddleston knows how to channel his inner antagonist and it's refreshing to see him further expand his filmography with a voice-acting role in stop-motion animation.
The big flick, however, is Avengers: Infinity War – out in cinemas April 25th. The biggest Marvel movie ever produced, with a rumoured $1 Billion budget, it sees almost the entire Marvel Cinematic Universe featured in an all-star clash against a greater evil with the cosmos at stake. Loki is featured in the cast, and while it's common knowledge that Thanos (all-around bad guy) is after the Infinity Stones, how Loki ties into the storyline is still under wraps.
Hiddleston for the most part has kept mum about film, but upon viewing the first trailer for Avengers: Infinity War, there was a heartfelt sentiment to what the role and the Marvel Cinematic Universe means to him as he shared with The Empire Film Podcast.
"I remember when I was cast as Loki for the very first time almost 10 years ago…suddenly the Marvel Cinematic Universe has been expanded to such an extraordinary size that it can encompass and encapsulate so many different characters who people have taken to their hearts and followed and loved. It's become so peopled now. It's just so impressive, and I say that almost outside it. And I feel so lucky to be a part of it".
I kicked off this piece with the concept of "persona". Every actor has one. Every single person has a persona that others perceive, and you should look at personas with a healthy amount of skepticism. If you look at what Tom Hiddleston has done and his modus operandi though, it's one built on the virtues of empathy, gratitude and diligence. There's an unfeigned way Hiddleston carries himself and the manner he approaches his craft. We need more good guys out there in the world. Tom Hiddleston is one of the good guys. It just so happens that this good guy plays a villain extremely well.