From Shakespeare to Chekhov, Molière to Miller, these are the showstoppers
It is a bit of a flaming cheek. Who are we to name the 50 best plays ever written? Who am I, more particularly, to offer you a list that has no room for King Lear or Twelfth Night, or Waiting for Godot, or The Crucible? Yes, I have two decades' experience as a theatre critic and about the same again as a theatregoer. But can I really suggest, with a straight face, that neither Aristophanes nor Christopher Marlowe, neither Sam Shepard nor August Strindberg, neither Noël Coward nor David Mamet quite make the grade?
Or, as a friend put it: "Is this list subjective or objective?" To which the only answer can be: "Yes." It's a selection born partly from theory — we know which plays are supposed to be great and we get a fair few chances to see them on the British stage. It's born more from practice. What does this play feel like in the theatre these days? Do I admire it, while wishing I were at home watching Stranger Things? Is it a challenge worth responding to? Does it still move me and amuse me and stick in my mind? Does it threaten to change me?
A few house rules. The oldest of these plays comes from 458BC, the newest appeared on the British stage this year. They are listed alphabetically, not in any order of preference. And, crucially, no playwright gets more than one play. No exceptions. Which is rough on Shakespeare, tough on Miller, Williams, Ibsen, Chekhov, Churchill, Stoppard. Sorry, geniuses. We want quality. We want diversity too.
Diversity, it should be said, more in its old meaning than its new. There is a huge variety in what follows, but it is mostly male (ten exceptions), and overwhelmingly white (three exceptions). I have picked the best from what I have seen, occasionally from what I have read, and, if you go to the theatre in Britain, that has tended to be from white men. It is changing and will, of course, change even more. Many of this century's best young British and American writers are women: Lucy Prebble, Anne Washburn, Nina Raine, Annie Baker, Jessica Swale, Polly Stenham, Lucy Kirkwood, Ella Hickson, Katori Hall, Debbie Tucker Green. Only one hasmade it into this list, although Prebble's Enron came close.
You don't agree with any of my choices? In all honesty, I think you're perverse. Agree with every one of my choices? In all honesty, I think you're my mother.
Absurd Person Singular, 1972
It's hard to choose only one Alan Ayckbourn play from more than 80; no other writer has combined domestic comedy and social satire with such a devotion to stretching the form. The Norman Conquests is a wonder, but this one is to Ayckbourn what Goldfinger is to Bond films: the one where all the ingredients come together. Over three Christmas parties, a socially anxious businessman, Sidney, rises and rises while his supposed social superiors struggle through failure, drinking, depression. Big laughs, big insight.
Pub fact Ayckbourn had to provide a title for the brochure of his Scarborough theatre before he had written the play. It bears no relation to the story.
See the Times review from 1973 bit.ly/2JDCcOq
Angels in America, 1991-92
Its reputation as a politicised magic-realist epic risks occluding the grounded, humane, wounded, but witty heart to Tony Kushner's modern great. It is set in mid-1980s New York, where the mostly gay characters' worlds are sent spinning by Aids, Reaganism, sex, identity, depression and religion. Lasting more than seven hours over two parts (Millennium Approaches and Perestroika), it's like a great gay American novel stuck on the stage. Just with more supernatural beings and Mormon marionettes.
Pub fact Declan Donnellan, the director of the original National Theatre production, got so fed up with Kushner's notes and rewrites that he banned him from rehearsals of Perestroika.
See the Times review from 2017 bit.ly/2EIlnhu
Art, 1994
Yasmina Reza's comedy doesn't normally come up on lists of the best plays. Can't think why not. Too funny? Too poignant? Too popular? Too, yes, artful as Reza slickly anatomises male friendships even as three men spat about the pricey white painting one of them has just bought. Is it art? Is he a sucker or a connoisseur? What binds this middle-aged bunch anyway? There is fragility and tenderness as well as big laughs in Christopher Hampton's wonderfully witty translation.
Pub fact Sean Connery co-produced Art in its English-language version after his wife, Micheline, saw Reza's French original in Paris.
See the Times review from 1996 bit.ly/2HhqtGX
Blasted, 1995
Sarah Kane's study in degradation made her name and headlines when it appeared at the Royal Court in London. It outraged, it puzzled . . . but, to those prepared to take it on its own terms, it also thrilled with its depiction of sexual violence in a Leeds hotel room, segueing without explanation into a nightmarish war zone. Following her own rule book, albeit one influenced by King Lear, Beckett, Pinter, Edward Bond and the ancient Greeks, Kane created something horrible, yet hopeful.
Pub fact The headline for the overnight Daily Mail review described it as "a disgusting feast of filth".
See the Times review from 1995 bit.ly/2GWlMDj
The Cherry Orchard, 1903
Sorry Uncle Vanya — you're a world-beating work of genius too, but we're arguing for Chekhov's final play as his most miraculous. It's the tragicomic story of an ageing brother and sister refusing to face up to reality in their last summer on their debt-ridden estate. Yet Chekhov makes every supporting character so rich it's as if he is cramming a dozen plays worth of humanity into one. Nothing happens, everything happens. How did he do it?
Pub fact Asked to name his three favourite authors, Tennessee Williams replied: "Chekhov! Chekhov! Chekhov!"
See the Times review from 1920 bit.ly/2HmngG2
Death and the King's Horseman, 1975
The Nigerian writer Wole Soyinka has had his biggest western success with this remarkable play, inspired by real events in the 1940s when the horseman to a Yoruban king delays the ritual suicide that is demanded of him after the death of his master. The British colonial ruler tries to stop what he sees as a barbaric practice. It is partly a culture-clash story, although Soyinka insists that part is incidental. It is also a challenging, compelling, mind-expanding story of duty and freedom, life and death.
Pub fact In 1986 Soyinka became the first African to win the Nobel prize for literature.
See the Times review from 2009 bit.ly/2JCUmA5
Death of a Salesman, 1949
All My Sons, The Crucible, A View from the Bridge — mid-century Arthur Miller whacked out all-time classics like he was serving doughnuts from his fryer. Willy Loman is his ultimate protagonist, the travelling salesman from Brooklyn coming loose from a reality he never mastered. To embody that, Miller mixed the realistic with the expressionistic. No play has ever done a better job of showing us how hard it is to get past our issues, our dreams (American or otherwise), our natures.
Pub fact Miller wrote the play in a cabin in the woods he built for the purpose.
See the Times review from 1949 bit.ly/2Hiepp2
The Deep Blue Sea, 1952
Once derided for being full of upper middle-class folk milling around drawing rooms, Terence Rattigan's best work has outlasted that of most of the Angry Young Men who declared him obsolete. This one is his most personal and most painful. It's the story of Hester, who flees her prosperous marriage to a decent judge to find love — and, although the words are never uttered, good sex — with a palpably unsuitable younger man.
Pub fact Rattigan based Hester on his ex-lover, Kenneth Morgan, who killed himself in 1949.
See the Times review from 1952 bit.ly/2EGbi4I
A Doll's House, 1879
Henrik Ibsen wrote several masterpieces, but I have seen nothing this decade with a bigger impact than the Young Vic's revival of this. It's an exquisitely constructed play that ends with a wife walking out on her husband and young children. And if it can get under a modern audience's skin so much that they talk back at the stage, what must it have felt like at the time? The stuffy well-known photo of the Norwegian playwright scowling between his two triangles of white facial hair belies how his work tore into the red meat of human existence.
Pub fact Written when he was 51, this is the play that made Ibsen internationally famous.
See the Times review from 1889 bit.ly/2JDWQOA
The Duchess of Malfi, 1614
I've seen this play as an immersive opera, as a Saw-style shocker accompanied by madrigals, in a candlelit playhouse with Gemma Arterton as the doomed duchess, and, now, at the RSC in Stratford, performed in a pool of blood. John Webster's tragedy always wins out. The story of a widow remarrying in secret while her brothers terrorise her, this slow slide to hell shows what can happen when men let their fear of female sexuality turn to hatred.
Pub fact Webster based his story on the Duchess of Amalfi, Giovanna D'Aragona, widowed at 19 in 1498.
See the Times review from 1856 bit.ly/2EFdTw1
Faith Healer, 1979
Brian Friel's four monologues tell the fractured story of Frank Hardy, a faith healer in the last act of his career. Frank, his manager and his wife touch on the same events, simultaneously backing up each other's stories and calling them into doubt. Yet if the truth isn't always plain, that's because the Irish playwright is depicting lives lived in the blur between faith and fiction, the imagined and the real. He does so in such rich detail that, paradoxically, wonderfully, you believe every word.
Pub fact The first production starred James Mason, making his first stage appearance in more than 30 years. It was poorly received.
See the Times review from 1981 bit.ly/2vgoL47
The Far Side of the Moon, 2000
The French-Canadian arthouse superstar Robert Lepage has been wowing audiences for decades with his emotionally acute multimedia spectaculars. This, a darkly funny one-man show about two brothers grieving about the space race, is the one you'd take to a desert island. Granted, you'd need a lot of staging gear to wash up on your shores to match Lepage's own high-tech production. Yet none of his exquisitely imaginative stagecraft would stick like it does if his script were not so adroit; so darkly funny and heartfelt.
Pub fact "Robert Lepage creates theatre for people who don't like theatre," said the singer-songwriter Peter Gabriel, who hired him to direct two of his tours.
See the Times review from 2001 bit.ly/2JHyHql
Fences, 1985
Part of August Wilson's wonderful, ten-play "Pittsburgh Cycle", this approachable, powerful Pulitzer prizewinner is like an African-American counterpoint to Miller's Death of a Salesman. Wilson's hero is Troy Maxson, a gabby garbageman still bitter he didn't get his shot at major-league baseball. He's a charmer, but beset by the siege mentality that his name suggests as he locks horns with his son, is haunted by his failures, and builds a fence around his home.
Pub fact James Earl Jones (Broadway), Lenny Henry (West End) and Denzel Washington (Broadway and film) have played Troy.
See the Times review from 1990 bit.ly/2vb27Kj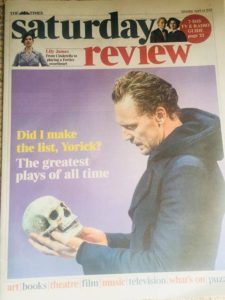 Hamlet, c 1599-1602
I know, I know: Macbeth is a miracle, King Lear is a cracker (albeit not the sort that lights up anyone's Christmas dinner . . .). Hamlet, though, is the crown prince of Shakespeare tragedies. Its quirks keep us forever captivated. How should we feel about this clever, capricious student who brings mostly doom as he takes action against the venal adult world? It's a wise, weird study in betrayal, love, grief, growing up, oratory, obsession, depression and swordsmanship, wrapped in a revenge thriller. No actor or director can answer all its questions. Most want to try.
Pub fact Shakespeare's longest play, at 4,042 lines. Hamlet is Shakespeare's longest role, at 1,422 lines.
See the Times review from 1785 bit.ly/2GSYIFo
The History Boys, 2004
Some plays grow in stature as time goes on. Some, like Alan Bennett's comedy about Sheffield sixth-formers studying for their Oxbridge exams, shout "total classic!" from opening night. This mixture of gang show, intellectual ding-dong and potent human drama went from the National to the West End, tours and Broadway. You could question how 18-year-old lads are all blessed with the ready wits of young Alan Bennetts. Why would you want to do that, though?
Pub fact The first cast of "history boys" included James Corden, Dominic Cooper, Russell Tovey and Jamie Parker (Harry Potter on Broadway).
See the Times review from 2004 bit.ly/2GXDXV8
The Homecoming, 1965
Harold Pinter changed theatre like the Beatles changed pop. He fused thrillerish mystery with staccato absurdism and living-room powerplay, giving us what the critic Irving Wardle dubbed "the comedy of menace". This one, about an academic, Teddy, and his wife, Ruth, returning to the all-male family home in the East End is nasty, odd, funny and draws on Pinter's upbringing in Hackney. Does Ruth end up in control of this awful family? Pimped out as their chattel? Both? If anyone tells you they completely understand a Pinter play, never buy a secondhand car off them; they are economical with the truth.
Pub fact Pinter's stage name as an actor in the 1950s was David Baron.
See the Times review from 1965 bit.ly/2v8Lq2a
The House of Bernarda Alba, 1936
The oppression that features in Federico García Lorca's final play, written on the eve of the Spanish civil war, is political and sexual. After the death of the husband of the fearsome title character, she orders her five adult daughters into eight years of locked-away mourning. Do they take this unquestioningly, while an unseen male suitor circles the family compound? They do not. The sexual tension is — or should be — remarkably vivid as formidability totters over into tyranny, which topples over into disaster.
Pub fact Lorca did not live to see this play's first performance in 1945. He was shot by nationalists in 1936.
See the Times review from 1973 bit.ly/2EFrZ0p
The Importance of Being Earnest, 1895
It's hard for comedy to endure like tragedy does. It helps if you can a) craft a line like Oscar Wilde did, and b) construct a plot like Oscar Wilde did. Yes, the breezy way he gave double lives to his main characters may have been inspired by the deceptions he plied as a (married) gay man in Victorian England. The result, though, is one of the most delightful scripts there is: a farcical story whose wooing, capering, quipping and exclaiming ("a handbag?!") leads to a parodically neat finale.
Pub fact Wilde's ruinous court case against the Marquess of Queensberry followed soon after the play opened in London. The notoriety prompted it to close after 86 performances.
See the Times review from 1975 bit.ly/2qmRHT1
Jerusalem, 2009
How indebted is Jez Butterworth's state-of-the-nation play to the firestarting lead turn Mark Rylance gave it? Perhaps we'll find out in June when the Watermill in Newbury stages the first big Rylanceless revival. For now, there's more than enough in this rude but rueful, comical but troubling play to keep celebrating it as a modern great. It's set on St George's Day, as the Falstaffian Johnny "Rooster" Byron rages against a council out to evict him from his trailer in the woods. Our sympathies are split, our spirits are elevated.
Pub fact Butterworth was a writer on the last two 007 films, Skyfall (uncredited) and Spectre.
See the Times review from 2009 bit.ly/2qvy775
John, 2015
Has a better new American play arrived in London this century? I say not, although others were turned off by its wilfully slow pace when it arrived at the National this year. Annie Baker's writing is a strong flavour, but I'm gambling every bitcoin I've got that her play about a frayed young couple staying at a strange B&B in Gettysburg will keep reappearing. Its ideas about how much we can or can't really know each other keep detonating in your head long after it ends.
Pub fact Baker's introduction to theatre was reading Oscar Wilde plays with her father as a child.
See the Times review from 2018 bit.ly/2GSX1Ui
Krapp's Last Tape, 1958
If you find all that stasis and existential despair in Samuel Beckett's work a bit . . . well . . . boring, no shame. I'd usually rather regrout my bathroom tiles than see Waiting for Godot. Still. Not only did he move the goalposts of stage writing, but his work can still astound. Krapp's Last Tape, which gives us a 69-year-old listening back to his younger self as he records this year's birthday tape, is poignant, ungooey, glorious. Oh, and less than an hour long.
Pub fact The hero of Beckett's first play, Eleutheria (not performed till 2005) was called Victor Krap.
See the Times review from 1958 bit.ly/2v8QXFF
Life Is a Dream, 1635
You see some plays and you get why they work. Then you see Pedro Calderón de la Barca's play and you're baffled and delighted. It's about a prince imprisoned by his father, who saw in the stars that his boy would grow up to be a despot. Kind of a monarchical Minority Report for the golden age of Spanish theatre. It mixes tragedy with comedy, soliloquising with throwaway retorts. It shouldn't make sense. In fact it is twinkling, compelling classical theatre.
Pub fact The playwright's full name was Pedro Calderón de la Barca y Barreda González de Henao Ruiz de Blasco y Riaño. Snappy.
See the Times review from 1964 bit.ly/2EFfh1H
Life of Galileo, 1938
Brecht's theories changed theatre. And yet a little verfremdungseffekt (his alienation effect) goes a long way. Mother Courage? Always formidable, not always enjoyable. So let's instead include this corker of a tale of the 17th-century scientist taking on the Church to prove that the Earth revolves around the Sun. Laden with ideas, rich with humanity, it's Brecht that even Brecht-haters can like.
Pub fact Brecht rewrote it with its star, Charles Laughton, for the English-language premiere in Los Angeles in 1947.
See the Times review from 1957 bit.ly/2HfrTBU
Long Day's Journey into Night, 1941
This autobiographical masterpiece was too close to home for Eugene O'Neill to want it performed in his lifetime, but his depiction of an Irish-American family letting loose decades of rancour and regret, agony and addiction, is a feast for the rest of us. Crucially it's dominated by love as much as disaster as the penny-pinching actor dad and morphine-addicted mum belatedly talk turkey with each other and their two sons at their summer home in Connecticut.
Pub fact O'Neill gave orders that it was not to be performed until 25 years after his death. Thankfully, his widow rebelled. It first appeared in 1956, three years after his death.
See the Times review from 1956 bit.ly/2HhcAZh
Mary Stuart, 1800
When the director Robert Icke revived this Friedrich Schiller play recently, he had his two leads, Lia Williams and Juliet Stevenson, toss a coin at the start of each show to decide who would play Mary, Queen of Scots and who would play her captor, Queen Elizabeth I. Even when performed without such a nifty device, though, Schiller's play illuminates how both women are two sides of the same coin. Mary is imprisoned yet impassioned. Elizabeth is ruler, but far from all-powerful. Schiller really knew how to nail political powerplay.
Pub fact Schiller shows Mary and Elizabeth meeting at Fotheringhay Castle. In real life, the cousins never met.
See the Times review from 2018 bit.ly/2GVNFHt
Medea, 431BC
Euripides' play gives us an entitled ex-husband (King Jason), a mother who is in danger of getting edged out of her own children's lives (Medea) and one of the most harrowing endings in theatrical history. Portrayed most memorably in recent years by Helen McCrory at the National Theatre, Medea will persist as long as there are men and women and children and unreasonable behaviour. For ever, in other words.
Pub fact Mike Bartlett's drama series Doctor Foster was inspired by the play.
See the Times review from 1922 bit.ly/2JG5k7Y
The Misanthrope, 1666
"It's so modern!" we sometimes say of old plays, surprised once again that irony and wit and cynicism and sex pre-date HBO box sets. It's the sign of a play true to its age, and universal because of it. So how should we react to Alceste, the truth-telling, bullshit-detecting title character in Molière's verse-spoken comedy of manners? Is he a hero for refusing to kowtow to society's desire to prettify and deceive, aka "to be polite"? Or does he sorely need to get over himself? The answer is, of course, both.
Pub fact Molière's real name was Jean-Baptiste Poquelin. He changed it when he became an actor, to save his father's shame.
See the Times review from 1934 bit.ly/2qt5mIb
Noises Off, 1982
There are many masterstrokes in Michael Frayn's farce about a touring company staging a farce, but the greatest one is its setting. For how else could we, the modern audience, laugh at the antiquated conventions of trouser-dropping and door-slamming and lap them up? Like Derren Brown giving us permission to enjoy magic again, Frayn gave us the context to suspend disbelief in the farce's skill set of split-second timing, indignity and on-the-spot ingenuity. And then knew how to get the best from a great idea. Hilarious.
Pub fact Frayn got the idea for the show when he stood in the wings of one of his earlier comedies and decided "it was funnier from behind than in front".
See the Times review from 1982 bit.ly/2qqYv22
Oedipus the King, 429BC
Steady on, Sophocles, you don't half make things tough for old Oedipus. This is the one in which King Oedipus hunts for the murderer of his father, whose actions have brought a plague on Thebes. Turns out that it was he who killed his daddy, and he's gone and married his own mother, Jocasta. D'oh! It doesn't end happily either, but the strong plotting that metes out the awful revelations makes for one of the most sturdily satisfying of all ancient dramas.
Pub fact Sophocles died (if ancient Greek showbiz whispers are to be trusted) while trying to read aloud a particularly long sentence from another of his hits, Antigone.
See the Times review from 1912 bit.ly/2EFMlq0
One Man, Two Guv'nors, 2011
I considered impressing you by listing this as The Servant of Two Masters by Carlo Goldoni from 1746, then loftily suggesting that some may know this commedia dell'arte classic through its brash reinvention by Richard Bean. Sod it, though, Bean's version is one of those tear-inducingly funny plays that comes along all too rarely, with a character and visual and verbal gags all its own. The skiffle! The waiter falling down the stairs! The Sixties Brighton setting! The upper-class twit! The sheer flipping joy of it all!
Pub fact Its star James Corden won a Tony award for best actor in a play when the show went to Broadway in 2012.
See the Times review from 2011 bit.ly/2EFsQ16
The Oresteia, 458BC
Three very different revivals of this trilogy in 2015 reminded us of its greatness. The bulk of Aeschylus's story is about Clytemnestra plotting to murder Agamemnon in revenge for sacrificing their daughter, after which their son, Orestes, plots to kill her, after which the Furies plot to kill Orestes. Does your family feel a little less dysfunctional suddenly? It's a play with unbeatably vivid ideas of a) the fragility of social order and b) the unwieldiness of revenge.
Pub fact Aeschylus is believed to have written about 90 tragedies, of which only six or seven (opinion is divided over Prometheus Bound) survive.
See the Times review from 1921 bit.ly/2qt3L59
Our Town, 1938
Both homespun and experimental, Thornton Wilder's play is a national institution in America. Acted out and mimed on a bare stage ("No curtain. No scenery" read the stage directions), narrated by the Stage Manager, it's a mix of kitchen banter and love and marriage and regret and death that ends in the afterlife with one character wishing she had counted her blessings while she was alive. Smalltown lives, big themes. An influence on It's a Wonderful Life, surely. A moving, memorable play in its own right, certainly.
Pub fact Actors who have played the Stage Manager include Orson Welles, Frank Sinatra, Helen Hunt and, for two weeks on Broadway in 1938, Thornton Wilder.
See the Times review from 1938 bit.ly/2Huhekt
Our Country's Good, 1988
What is the point of theatre? There's a topic to resolve in the course of a play. And when you are also addressing the colonisation of Australia, in a story populated by British convicts and soldiers based on real people, you risk turning a night out into a lecture. Yet Timberlake Wertenbaker wrote a modern classic by finding a form that could mix everything from a harsh depiction of flogging to theatrical in-jokery as the convicts rehearse their production of George Farquhar's play The Recruiting Officer (also on this list). Remarkable.
Pub fact It is based on The Playmaker, a book by Thomas Keneally.
See the Times review from 1989 bit.ly/2JJwMkY
Pygmalion, 1913
Bernard Shaw always had a point to prove in his plays, but, as this great story of the phonetics professor and the Covent Garden flowergirl reminds us, he knew how to put flesh on the bones of his debates. This tale of Henry Higgins and Eliza Doolittle is the Irish playwright at his most memorable. He described it as "intensely and deliberately didactic . . . great art can never be anything else". After his death in 1950 Lerner and Loewe turned it a musical, My Fair Lady. (Confession: I like that even more than I liked Pygmalion.)
Pub fact Pygmalion was an ancient Greek mythological figure who fell in love with the statue he created.
See the Times review from 1914 bit.ly/2GTw2fg
Racing Demon, 1990
Like the later sitcom Rev, David Hare's masterpiece pits a likeable, liberal, married London vicar against a business-minded bishop. Racing Demon also pits him against a younger cleric who is brasher, but better box-office. And in the process Hare gets you rooting for the good guy, but fully appreciating all the counter-arguments that threaten to render him obsolete. Theology at its most thrilling.
Pub fact Hare got the idea for it after a casual visit to the General Synod of the Church of England in York in 1987, which he went to hoping for "an entertaining spectacle".
See the Times review from 1990 bit.ly/2vgGW9K
A Raisin in the Sun, 1959
Written soon after the start of the civil rights movement, Lorraine Hansberry's debut is a milestone in theatre history as the first play staged on Broadway by an African-American woman. It also remains — if you're wondering whether to get a babysitter — a rich, resonant piece of theatre. Hansberry depicts a black family, the Youngers, debating whether to use a financial windfall to move from the south side of Chicago to a white area in the suburbs.
Pub fact Nina Simone's song To Be Young, Gifted and Black was about Hansberry, who died in 1965, aged 34.
See the Times review from 1959 bit.ly/2HkIwfy
The Real Thing, 1982
Tom Stoppard's play is about an endlessly wise and witty, dare one say Stoppardian playwright cheating on one actress wife, then being cheated on by another. Does that sound like the kind of chichi middle-aged male angst that is — or was — better left to Woody Allen films and Noël Coward plays? Good job it's a masterpiece, then, a Stoppard play as full of feeling as it is of ideas. The trumpets of romantic pain eventually dismantle our hero's wall of wit. And the dialogue soars: never better than in the famous "cricket bat" speech, in which Henry compares good writing to a well-sprung cricket bat.
Pub fact The play's original female lead, Felicity Kendal, went on to have an affair with Stoppard.
See the Times review from 1982 bit.ly/2GWgI1O
The Recruiting Officer, 1706
Although it came at the tail end of Restoration comedy and was regional rather than metropolitan, George Farquhar's disillusioned delight of a play was an 18th-century hit for a reason. The account of the unscrupulous soldiers of the title, coming to Shrewsbury to get men to join up by fair means or foul, it mixes romantic misadventures with a sharp-eyed depiction of a cynical process that Farquhar knew only too well — he had been a recruiting officer himself.
Pub fact It was the first play to be performed in Australia, in 1789 — as depicted in Timberlake Wertenbaker's Our Country's Good.
See the Times review from 1943 bit.ly/2GV5s1z
The Rover, 1664
If Aphra Behn was only famous for being one of Britain's first female professional writers, her Restoration comedy, The Rover, would be an important footnote in theatrical history. "All women together ought to let flowers fall upon the tomb of Aphra Behn," wrote Virginia Woolf in A Room of One's Own, "for it was she who earned them the right to speak their minds." What it also is, though, as the RSC's 2016 revival reminded us, is a richly entertaining romp — about three cavaliers looking for action in Spain — that is also a sharp study of sexual double standards.
Pub fact Behn was a spy for Charles II, codename Astrea (her pen name).
See the Times review from 2016 bit.ly/2qrDWSk
She Stoops to Conquer, 1773
This class-conscious romp by the Anglo-Irish playwright Oliver Goldsmith can bring proper laughs, not just polite theatrical titters. He's got a great premise and executes it with aplomb: a pair of young blades are fooled into thinking that the country house they are staying in is actually an inn. One of those men is tongue-tied with women of his own class, but able to cut loose with women of a lower social order. Mishaps, ironies and deceptions abound.
Inn fact John O'Keeffe wrote a sequel in 1778 called Tony Lumpkin in Town.
See the Times review from 1787 bit.ly/2EGrZNB
The Silver Tassie, 1928
Sean O'Casey's anti-war play has often been seen as the runt of his litter, following Shadow of a Gunman, The Plough and the Stars and Juno and the Paycock. The 2014 revival at the National, however, showed what a remarkable piece of work this First World War story is. Its meshing of naturalism and expressionism brings together different aspects of the horrors of war with a breadth of vision that pre-dates Oh! What a Lovely War by more than 30 years.
Pub fact O'Casey's usual patron, WB Yeats, declined to stage the play at the Abbey Theatre in Dublin. "I am sad and discouraged; you have no subject," he told him.
See the Times review from 1929 bit.ly/2IKtAV5
Spring Awakening, 1891
Teenage wastelands and grown-ups who just don't get it: anyone for the late-Victorian Skins? Frank Wedekind's drama about sexual coming-of-age in buttoned-up smalltown Germany was banned in this country until the 1960s. And although we are a long way past forbidding depictions of homosexuality, rape, abortion and suicide, Wedekind's play still unnerves and inspires in the way it depicts adolescent sexuality.
Pub fact The National staged the first uncensored British production, translated by Edward Bond, in 1974.
See the Times review from 1931 bit.ly/2Htbyag
The Stepmother, 1924
Githa Sowerby's play only got its professional British premiere, at the Orange Tree in Richmond, in 2013. Richard Eyre revived it in Chichester last summer and proved that this account of a young woman stuck in a marriage with a man who speculates with her money to be one of the great lost works of the early 20th century. "The play takes Ibsen's feminism much further," Eyre told The Times. "And yet there's not an atom of polemic except the implicit kind which makes you think, 'You can't run the world like this!' "
Pub fact Sowerby was assumed to be a man when she wrote her first play, Rutherford and Son (1912), under the name GK Sowerby.
See the Times review from 1924 bit.ly/2HvnkB1
A Streetcar Named Desire, 1947
Tennessee Williams's crowning masterpiece is one of those plays that has permeated popular consciousness, thanks in part to the 1951 film starring Vivien Leigh and Marlon Brando. (And, more recently, that episode of The Simpsons in which Marge plays Blanche in a musical version.) In Blanche DuBois, the well-born, damaged southerner who comes to stay in New Orleans with her sister, Stella, and Stella's brutish husband, Stanley, Williams created one of 20th-century theatre's great characters. Where did he get her from? "I'll put it to you plainly," said his director, Elia Kazan. "Tennessee Williams equals Blanche. He is Blanche."
Pub fact It was called Poker Night until Williams's agent insisted it would get confused for a pulp western novel.
See the Times review from 1949 bit.ly/2qrlOZy
A Taste of Honey, 1958
Shelagh Delaney never equalled this debut, set in her native Salford, written when she was 19. Then again, few have, although many have been influenced by it: Tony Warren, the creator of Coronation Street, saw the first production. It's the story of a nightclub-singer mum and her teenage daughter, who gets pregnant by a black sailor, but sets up home with a gay student. It was — and remains — funny and frank, social realism with a spring in its step.
Pub fact Morrissey purloined one of the play's lines for the Smiths song Reel Around the Fountain: "I dreamt about you last night and I fell out of bed twice."
See the Times review from 1958 bit.ly/2JHz7gj
Top Girls, 1982
How often do we really see a show unlike any we've seen before? Caryl Churchill has somehow kept coming up with them throughout her career, but it's this tale of a woman cauterising her emotions to compete in a man's world that stuns most. Its three acts are each in a different style: led by one in which our heroine, Marlene, hosts a restaurant dinner for women from history, mythical and real, including Pope Joan.
Pub fact Churchill, now 79, has long refused to give interviews. According to her publisher, Nick Hern, it's because she fears becoming self-conscious about how she writes if she talks about it too much.
See the Times review from 1982 bit.ly/2EJcnsQ
Tristan and Yseult, 2003
Suitably enough, for a story about overpowering love, this reinvention of an age-old myth can bowl you over. A more scholarly article could debate who deserves the biggest drink here: is it the playwrights, Carl Grose and Anna Maria Murphy, or is it Emma Rice, the flamboyant theatre-maker credited as "director" and "adapter"? Best, to be safe, to buy a big round for everyone involved in this hilarious, heartbreaking, part-modernised, part-mythical love triangle created for the Cornish theatre company Kneehigh.
Pub fact Rice told her writers at an early stage to make it "more Tarantino".
See the Times review from 2005 bit.ly/2qsataB
The Voysey Inheritance, 1905
Strange that nobody has done a big revival of Harley Granville-Barker's drama since the financial crash of 2008 — albeit the National staged one in 2006 — because few plays are better at depicting life in a financial bubble. The inheritance of the title is the Ponzi scheme that a family firm of solicitors has been living off. The son learns the truth from his more buccaneering father and must decide whether to play along or blow the whistle. Its assaults on Edwardian values still ring true.
Pub fact David Mamet adapted the play for American audiences in 2006, but his attempts to turn it into a film came to nothing.
See the Times review from 1912 bit.ly/2GRxECf
The Weir, 1997
Three men and a woman trade stories of life beyond death in a rural Irish bar. Doesn't sound like much. Yet the play that made Conor McPherson a star writer at 25 is moving, richly funny, richly human. The Dublin playwright introduces ideas that keep coming back in his work: debt, regret, payback, death, ghosts. "You can't really tell stories about happy, fulfilled people," he says. "Or you can, but something bad has to happen to them. That's the nature of story."
Irish pub fact There are 7,193 pubs in Ireland.
See the Times review from 1998 bit.ly/2EJhoBo
Who's Afraid of Virginia Woolf? 1962
Ouch! Edward Albee made his name with this, the smartest, snarliest, strangest marital row in theatre. George is an academic at an east coast college, Martha is his wife, the daughter of the dean. They invite a younger couple for late-night drinkies. And, oh, the playacting, the tussles for territory, the acts of intellectual vaudeville that ensue. Like some wonky parody of the American nuclear family, George and Martha tear psychosexual chunks out of each other and everyone around them.
Pub fact Albee feared Elizabeth Taylor was "about 20 years too young for the role" of Martha in the 1966 film and Richard Burton was "about five years too old". He ended up admiring their work.
See the Times review from 1962 bit.ly/2IL4dCE