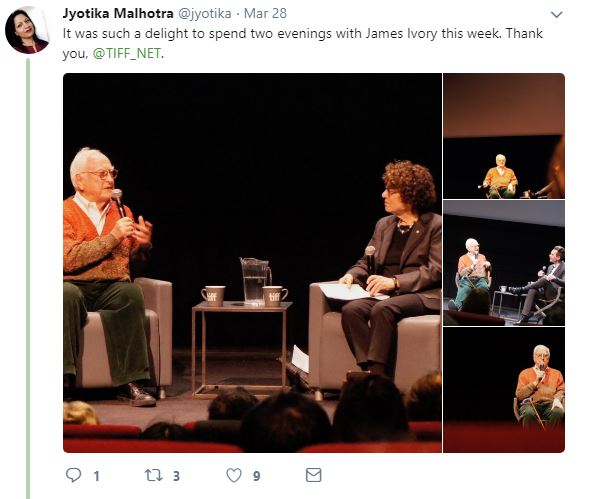 Film investors' fear of the Bard is burying my Richard II, says James Ivory
Veteran director claims financiers think he's crazy for attempting Shakespeare adaptation
by Dalya Alberge for The Guardian
12 Aug 2017
This is despite the proliferation of royal dramas on our small screens in the past couple of years, from Wolf Hall to Victoria, to more modern versions of the British monarchy such as The Crown and an imagined future in King Charles III. Even the frenzy around Richard III since the discovery of his skeleton in Leicester five years ago has failed to ignite enthusiasm for the other Richard, it seems.
He needs around £15m, which he says is "nothing as far as movies are concerned these days, but no one seems to want to take the risk".
This is not the first time Ivory has tried to get Richard II off the ground. It appears that Kenneth Branagh put the kibosh on a previous production in 1992, around the time Merchant and Ivory were making The Remains of the Day.
"I had another cast. Daniel Day-Lewis as Richard II and Kenneth Branagh as Bolingbroke, or Henry IV as he becomes, and Emma Thompson as the queen," said Ivory. "And then, unfortunately, Branagh said 'I couldn't play Bolingbroke, I'd have to play Richard'.
"We were about to make another movie anyway, so I let it go and we didn't proceed with it."
Ivory, 89, founded Merchant Ivory with his production partner, the late Ismail Merchant, and collaborated on many films with screenwriter Ruth Prawer Jhabvala.
Celebrated for literary adaptations, their films became well known for visual beauty and period detail. As well as established stars such as Maggie Smith, they cast young actors such as Daniel Day-Lewis, who played Cecil in Room with a View. The 1992 film Howards End, based on EM Forster's 1910 novel, won three Oscars. It has just undergone a new 4K resolution restoration for its 25th anniversary.
Merchant died in 2005, but Ivory said: "Had he been around, [Richard II] would have been made. We don't have a really good producer like Ismail." Ivory is enthusiastic about the casting for his proposed film, describing Hiddleston and Lewis as "wonderful actors".
Both have extensive experience of Shakespeare. Hiddleston, who starred in the BBC's award-winning The Night Manager is playing Hamlet this month in a Branagh stage production. Lewis appeared with the Royal Shakespeare Company before television dramas such as Homeland, Wolf Hall and Billions.
Ivory knows exactly how he would adapt Richard II for the big screen: "It would make a fantastic thing visually to do a medieval film in 3D. We know very little about the medieval age. You read books about it. You go to museums and see the armour and so forth, but that's really all we know about it. When it's delivered as a film, you learn a lot."
He would shoot some of it in Westminster Hall, whose magnificent hammer-beam roof – the largest medieval timber roof in northern Europe – was commissioned in 1393 by Richard II.
Producer Stephen Evans was not surprised to hear of Ivory's struggle to finance his film. He encountered "much scepticism" from potential investors in making Henry V with Branagh. It was only through friends in the City that he could fully finance the movie. Despite Oscar nominations for Branagh as best director and actor, and great reviews, the film did not do well at the box office.
Evans's 1993 film, Much Ado About Nothing – again directed by Branagh – "fared better", he said, primarily because Branagh and Thompson were now major names and the cast included Denzel Washington, Michael Keaton and Keanu Reeves.
"Without them, the film would certainly not have been made," he added. "It was well-received and worked better as it was a comedy."
He said: "Investing in Shakespeare is a labour of love. So many investment funds are frightened of the financial potential in making Shakespeare. The last Shakespeare released, Macbeth – despite having Michael Fassbender and Marion Cotillard as the two leads and being well received – only did middling business.
"It is clearly very difficult. I do think that, if Shakespeare was around now, he would be in LA writing scripts for Star Wars and the like. There is so much good stuff that has been done on Shakespeare, it will take a new generation to rediscover his works and try to put new angles on his genius."
Tom Hiddleston's Shakespeare movie struggling for funds
Tom Hiddleston's new movie adaptation of William Shakespeare's play Richard II is struggling to obtain financing.
The Avengers actor, 36, has been lined up for a role in the movie since 2015, but director and producer James Ivory says that despite a stellar cast, which also includes Homeland star Damian Lewis, 46, he can't obtain funding from investors.
"They look at you like you're crazy," he tells British newspaper The Guardian. "There is an assumption that there is no money to be made from such an investment."
Ivory, whose 1993 drama The Remains of the Day was nominated for eight Academy Awards, says that despite a superb script from Oscar-winning scribe Chris Terrio, financiers won't get behind the project.
He explains he's been told the movie is a "terrific idea", but that, "nobody comes forward with the money".
Written at the end of the 16th Century, Richard II is one of William Shakespeare's lesser known plays, and tells the story of how English monarch Richard II was overthrown by nobleman Henry Bolingbroke, who became King Henry IV.
The play has never been adapted for the screen, although James Bond actor Ben Whishaw starred in a 2012 adaptation as part of the BBC's The Hollow Crown TV series, a collation of several of Shakespeare's historical plays. Hiddleston also starred in the TV series, playing British king Henry V in three later episodes.
Ivory, 89, wants around $19.5 million to make the movie, and ideally wants to film it in 3D.
"It would make a fantastic thing visually to do a medieval film in 3D," he says. "We know very little about the medieval age. You read books about it. You go to museums and see the armor and so forth, but that's really all we know about it. When it's delivered as a film, you learn a lot."
He previously attempted to make the film with a cast including Daniel Day-Lewis, Kenneth Branaghand Emma Thompson, but he says the project fell through after casting disagreements with Branagh.