By Niv M. Sultan on 11.19.2017 for ScreenRant
Thor: Ragnarok has surpassed $700 million in worldwide box office revenue. The comic book movie sensation's financial success has accompanied tremendous critical reception, as Ragnarok has amassed an impressive 92 percent rating on Rotten Tomatoes.
With up-and-coming director Taika Waititi (What We Do in the Shadows, Hunt for the Wilderpeople) at the helm, the latest entry in the Thor saga had high expectations. And less than three weeks into its theatrical run, the film has clearly not only met, but flown past those expectations.
Exhibitor Relations reports that with a total worldwide intake of more than $738 million, Ragnarok has already surpassed the two earlier Thor movies: 2011's Thor (about $449 million) and 2013's Thor: The Dark World (more than $644 million). Ragnarok is also more than on-track to hit the $800 million mark worldwide, which would make it the third consecutive Marvel film to accomplish that feat in 2017, alongside Guardians of the Galaxy Vol. 2 and Spider-Man: Homecoming.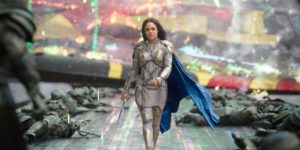 Now, though, Ragnarok has to contend with the newly released Justice League, which hit theaters Friday and has hauled in over $281 million worldwide. But, given reports that Justice League needs to earn $600 million to break even on production costs, Batman and company have a lot of weight on their shoulders. Luckily for Warner Bros., with the holiday season rapidly approaching, there's still plenty of time for Justice League to keep on raking in ticket sales.
With how consistently Ragnarok exemplifies the appeal of comic books on the big screen, the film's thunderous performance is unsurprising. It has out-of-control set pieces (the Hulk fighting an enormous wolf), endearing banter between its main characters, and perhaps the best supporting character to grace a comic book movie thus far: Korg, the revolutionary rock-being, played by director Waititi (who played, in some shape or form, four roles in Ragnarok). And in case anyone needs proof as to how amazing Korg is, he now has his own Ragnarok poster. The surest proof, however, lies in the movie itself.
Avengers: Infinity War is a few months away, so fans will have to wait a little while to see what's next for Thor and the Hulk. But if recent Marvel movies are any indication, Infinity War will have a great deal in store to please audiences. Thor: Ragnarok is fan-service pushed to an irresistible extreme, and it's tough to imagine a third Avengers movie not following up with some indulgences of its own.